Walk Away from your Injury
With a design intended to keep you safely moving like you hadn't been injured, XLEG allows you to go about your daily activities and heal while you are doing it!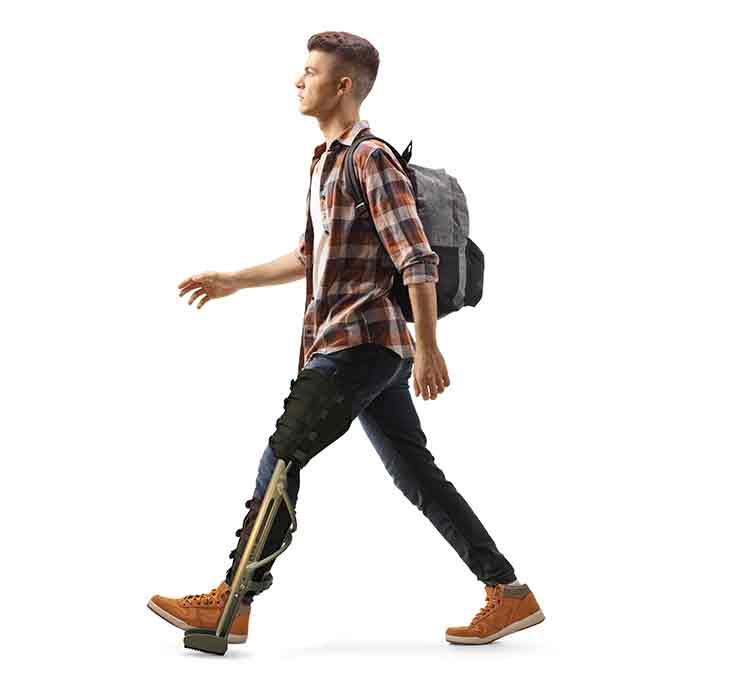 XLEG Features
The best crutch alternative, hands down.

VARIABLE WEIGHT-LOAD

The only crutch alternative that allows you to dial in consistent levels of weight-bearing, from entirely non-weight bearing, to the exact percentages you need for your therapy and healing

ADJUSTABLE FIT

With an array of frame and cuff sizes, plus multiple adjustment points,  XLEG is able to accommodate a wide variety of physiology.

LIGHTWEIGHT DESIGN

The XLEG is constructed from a combination of aluminum and polymer to provide sturdy, lightweight support.

DOUBLE AXIS OF SUPPORT

XLEG was designed with two points of contact to the ground to provide needed safety and stability to prevent reinjury
XLEG BENEFITS
Using the XLEG during recovery increases quality of life by overcoming all the existing challenges in today's mobility devices. You can sit, stand, walk comfortably and safely.
Testimonials
Totally liberating. I couldn't believe how amazing it was to not be on crutches for the time I was using it. I also feel that it helped me recover because I was actively using my injured leg to walk around..
I no longer have back pain from hunching over to use a crutch and it's just really easy once you have it fitted properly and pain free to get around. I wish I would have found this sooner.
I'm in love with this product! It's been so helpful and I don't need to have people hovering to make sure I don't need anything which I can't tell you in words how wonderful it feels to be more normal again.